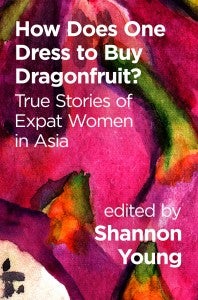 One of the basic conclusions westerners are bound to make when in contact with the Asian world is that they stand out. This is the exact feeling that Shannon Dunlap experienced when she first roamed the streets of Phnom Penh, Cambodia. She realized she was sticking out; that stepping into the market was like stepping into a cultural pothole. The shorts she wore made her feel displaced as her hiking boots did in Thailand. Experiencing diversity as an expat can be amusing and perplexing, but trying to blend in when you are pregnant, like Jennifer S. Deayton did in Hong Kong, is somewhat legendary. Everything was different at that neck of the woods. And there she was getting bigger in a hot and sticky December, longing for the autumn of pumpkins and homemade soup, sweatshirts and football games back home. Jocelyn Eikenburg took the leap and married the love of her life, a Chinese man. And then the honeymoon came and with it, the man that both her and her husband called Laoba-father, who literally shared the same hotel suite with them.
'How Does One Dress to Buy Dragonfruit?' is a new release edited by Shannon Young and published by Signal 8 Press, Hong Kong. It is a collection of wonderful short stories told by their protagonists – women who have been traveling or living in the Far East. And even though each experience is individual, they all share an insight: that sometimes a change in location can lead to a change in perspective about ourselves and that making it in a culture so different from our own makes many things suddenly seem "Mai pen rai," which means, "It's okay, no problem" in Thai.
Whether you are an expat or an ardent traveler or simply curious to see how terrifying, magical, exhausting and meaningful life with the cultural "other" may prove to be, make sure to get your hands on this beautiful patchwork of women's literature. Abundant with hearty descriptions and filled with notions of loneliness, awkwardness and a strong sense of achievement, the Dragonfruit stories will open a window to a world as seen through the eyes of sensitive and strong women.