Translation of signs on antique chinese bell (photo)
Posted by:
Hiyama
(IP Logged)
Date: November 30, 2009 11:10PM
I have been trying in vain to translate this and I dont know where else to turn. Maybe one of you fine people can give me a clue.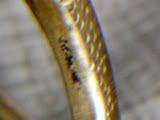 I know they are not clear but who knows maybe someone can make it out.
Thanks and the image comes from an antique bell.
Edited 1 time(s). Last edit at 12/01/2009 03:52AM by Olive.