In the summer of 1998, a carefree 3 year-old girl was playing joyfully outside the house of her family somewhere in the U.S.A. Her mother, Jenny Bowen, stopped and looked at her from the kitchen window in awe. Nothing in this happy and thriving child reminded her of the sickly, delayed and frightened creature that she and her husband had adopted months earlier in an orphanage in China. And then it struck her: she would make it her job to provide a loving hand for all those children that she had left behind, all those that she couldn't take home with her.
Together with a group of friends and experts she created Half the Sky, an organization committed to bringing a caring adult into the life of every orphaned child in China. With no prior knowledge on child development and absolutely no idea about China or the Chinese language, she set out to convince China's stern bureaucrats to reinvent the country's welfare system.
This is how she describes living conditions in China's orphanages in her recently published book Wish you Happy Forever, in which she chronicles her personal journey towards transforming the lives of thousands of children and the orphanages where they live:
"I entered a room full of orphans. It was the first time. There were maybe twenty, maybe thirty of them, all little girls—toddlers. But no one was toddling. They were all sitting on little paint-chipped wooden potty chairs in a small dormitory. The children were tied to the chairs at their ankles and chests with strips of rag.
There was a scratchy black-and-white television in one corner playing a soap opera. The sound was low. There was no other sound in the room. No cries. No little kid noises at all.
A young ayi —which means auntie, but in this context, caretaker or maid —in a wrinkled, once-white uniform arrived. She was carrying a metal bowl of rice mush with bits of something brown. She was maybe sixteen. "Nihao," I said. She nodded with a shy smile, eyes averted, then grabbed a spoon and sat down on a small plastic stool before the little girls. She started scooping food in to the first three little bird mouths. The other children watched her, mouths open, waiting for their turn.
"Why are they tied?" I asked Mrs. Li.
"We don't have enough workers to control them," she said.
"Well—do they have any toys to play with or anything?"
"Oh yes."
I murmured to Mrs. Zhang,
"Where are they? The toys?" Mrs. Zhang asked.
"She says they're locked up."
"Why?"
"The children will break them," Mrs. Li said.
"But—" And then I shut up. I knelt beside a small girl who wore a red string tied tightly around her tiny wrist. It was digging into her skin.
"Ow," I whispered. I touched the string. She looked at me with pure terror.
"It's too tight . . . the string . . ."
"Her mama gave it to her. She won't let us take it off."
I stood up, shaky on my feet. I tried to touch each little rough cheek or hand before I left. Pathetic gesture."
Fifteen years later, however, Jenny Bowen can look back and say: "We' ve done it!" In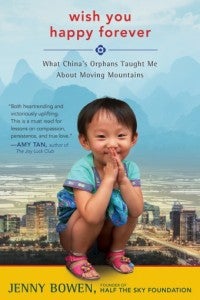 the beginning it seemed unthinkable that China would even let foreigners work in orphanages. Today, after witnessing the true change that the organization brought about, the government does not only trust but has partnered with Half the Sky to make life easier for the children in its care. "I never imagined when I founded Half the Sky, the impact we ultimately would have on the lives of millions of forgotten children. What's happened in China is extraordinary, but anybody who's met me knows that I'm completely ordinary. Like a lot of ordinary people, I' ve always been a big dreamer. The only difference between me (or dare I say, at least a few of my fellow social entrepreneurs) and the dreamers for whom I wrote this book is: I did it. I chased a dream. Anyone can. Let's hear it for the ordinaries!"
Note: To learn more about Wish you Happy Forever, the work of Half the Sky and ways to help the organization, please visit: http://halfthesky.org/en