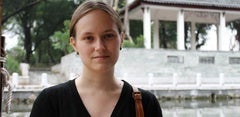 Sara Jaaksola is much more than just a blogger. She is the funny, sweet, sensitive and absolutely determined creator of Living a Dream in China, a blog that chronicles her adventures, challenges and achievements since the moment she moved to the Middle Kingdom. Reading through her posts, one will not only get practical advice on Renting an Apartment in China or on How to prepare for HSK exams but an insider's view on what a typical Chinese family looks like, tips on studying Chinese and thrilling everyday survival stories .
Chinese Tools is proud to present a talented young lady, who can confirm it is possible to live the dream in China.
Sara, congratulations on your wedding! We've noticed that you shared a detailed article about getting married in China that draws from your personal experience.  How has publishing bits and pieces of your life affected you? Can you give us examples of the advantages and downsides of this choice?
In general, sharing my life online on my blog has been a very positive experience . I've got many readers that feel they can relate to my posts very well because they are so real. I have also met quite a few readers face to face and I became good friends with them.
Of course, there are downsides  as well.  For example I occasionally negative comments on my blog, but at least for now the negative side has been much smaller than the positive.
I share a lot on my blog, but that's never 100% what my life is really like. There are many topics I choose not to write about and every time I publish a blog post I keep in mind that my mom will read it!
You have learned Chinese, got married to a Chinese citizen, built a life for yourself in China. Do you feel that your Finnish identity is fading away with time? Does that bother you?
Actually during the years in China, especially now living with my in-laws, I'm becoming much more Finnish! I've always been a China fan and all of my friends and family remember me being very much into China since middle school. But now that I'm actually living here, I've started to cherish my Finnish roots a lot more. I guess it's my way of keeping my Finnish identity as I don't want to let go of it, no matter how long I will be living in China.
 What are the main things that make life in China a dream?
The main thing is that I dreamed about it for so long before actually taking the leap and moving here. Since middle school, I just had this idea, this dream,  that I had to go to China and experience the Chinese culture first hand. It's very hard to explain the feeling, but it kept me going and helped me to make the decision to live in China.
Now, with the benefit of hindsight, I can safely say that living in China isn't always a dream, it's not easy to live in a culture completely different from yours. But it teaches you a lot not just about China and the culture, but also about yourself. I'm so grateful I'm experiencing all this and learning new things every single day. It makes me appreciate what I have and what I've done so far.
What are the main things that make it a nightmare?
People rushing to already full metros and buses, answering the phone in a movie theater, spitting on the floor, smoking everywhere, not respecting your private space, impoliteness… There are many things that can make living in China a nightmare. I think it's important to stop yourself from complaining all the time, as that might escalate into rows of Bad China Days.
What are the common mistakes westerners make when they are trying to adjust to the Chinese way of living?
Perhaps the number one mistake that they DO NOT try to adjust to the Chinese way of living. It's much easier to stay in the expat bubble where your life consists of work, Western restaurants, international friends and occasional sightseeing.
But if you want to understand the people and the culture better, then you have to get out there and start experiencing it! There are no strict rules. The Chinese wont mind it if you can't use chopsticks or eat dim sum with your fingers. I think the Chinese, perhaps especially Cantonese, are very relaxed people and there's no need to worry about making mistakes or embarrassing yourself.
Of course you don't have to change into a local Chinese either, I wouldn't do that. There's no shame in having your Western lunches and keeping your old group of friends. But peeking through the expat bubble will give you so much more.
Is China cut out for everyone? What can one do to make sure they will make the most out of their time in China?
China isn't for everybody. I remember exchange students who didn't really get over the Bad China Days and ended up complaining day in, day out. I also have a cousin who lived here for a year for work, but was happy when she got relocated to Australia, China just wasn't the place for her.
I believe that we all have our special places in the world where we feel like home. You just have to find yours.
How to make the best of living in China? No matter whether you are here for a short period or for good, step out of your comfort zone and start exploring. Try the local cuisine, check out historical and cultural places around the city. Travel to different cities and villages around the country to see how diverse it is.
Most of all keep an open mind. China might be very different to what you are used to and different doesn't equal worse, it's just not the same. Be patient and respectful of others and you will be OK. Learn at least a little bit of Mandarin Chinese to be able to order your noodles and buy clothes in Chinese. You will see a new side of people when you speak in their language.
Please name three of your favorite hangout places in China and tell us why they are so special.
Last year I was at Lange Village in Guizhou with my husband and I had this very special feeling, something I had experienced back in 2010 when I was traveling across the country. I felt very strongly that China is the place for me to be. The scenery and architecture of Langde Village are amazing, so I recommend it for a one day trip (during your exploration of other villages around the province, I hope!).
For relaxing times on the so-called Chinese Hawaii, I recommend Haikou on the north of Hainan Island. Not even nearly so many tourists as in Sanya in the south, but still great beaches and barbecues to try out. When you get tired of temples and museums, visit Haikou to clear your head. Grab your favorite novel and find a spot on the sand.
Of course I need to save a spot for Guangzhou as well. My all time favorite has always been the Xiaozhou village in Haizhu District. It's the art village of Guangzhou full of artists, students and lovely cafes. Last few times I was  there, there was lots of construction going on  as the villagers were building new homes. So if you are planning to  visit Xiaozhou do it now before it loses its magic.
If you want to learn more about Sara, visit her blog, Living A Dream in China