Continuing our dedication to China and photography, we are proud to present the thrilling work of France-born photographer François Trézin. After studying Graphic Design  in Paris and  Fine Arts in Nantes and Cergy-Pontoise in his home country, François  took the leap and moved to Asia and in particular Japan, where he developed his art and cultivated his passion for detail and the Asian culture through working with Japanese photographers. In 2007 he established his studio in Shanghai and later on teamed up with studio director LiWen. Their large studio is located in the city's center, in the North of Jing'An District. 
His latest project goes by the strange name A.S.A.D.K.D.A. (A Sculpture A Day Keeps Doctor Away). Here is what he has to say about it:  "A.S.A.D.K.D.A.  is a visual research on the relationship between people and objects as they develop in daily life. What is of particular interest to me is the moment when the object's functional and aesthetic traits shift from their original concept -sometimes by accident, sometimes by voluntary means, the object is not what it looks like to be. From a professional and personal point of view I am pushed to re-thinking the object all the time. This series is mainly about how people I know or complete strangers give new meaning to things, how they re-interpret them".
Here are the pictures he chose to share with us from this particular project: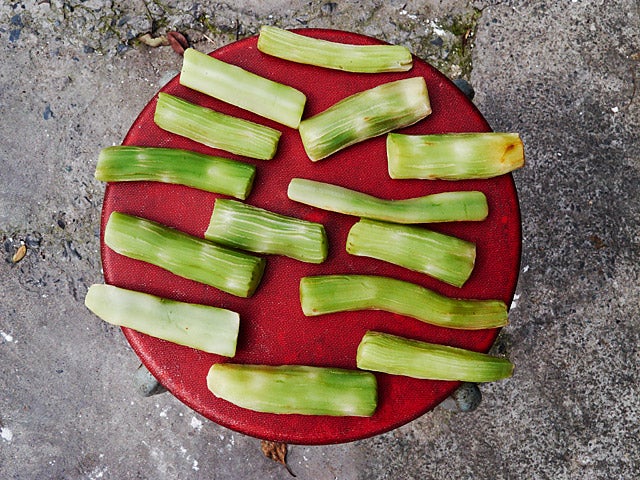 "Chinese people have a very different understanding of public and private space. As a foreigner,  wandering through Chinese streets can be quite a fun experience. It is very common to see food drying either on a stool or on a plastic sheet placed right on the floor or even to spot pieces of meat hanging from the trees! The WoSuen drying on the red stool belonged to a small restaurant owner 15 meters across the street. He simply decided to place it there as the sun was shining on the other side of the street! I guess it was for personal use as the quantity was pretty small".
"The Gan LuoBo (dried radish) was placed on a bush in a park, I wasn't able to figure out who it belonged to. It was the end of the afternoon, I caught the last ray of light hitting it."
To learn more about François Trézin and his work visit his website
.