Jocelyn Eikenburg is not just another expat blogging about her China adventures. She's the writer and creator of Speaking of China, a blog about love, family and relationships in China, with a special focus on intercultural relationships and in particular relationships between Chinese men and Western women. Last year, Jocelyn was interviewed by BBC News about Speaking of China and her cross-cultural marriage. Jocelyn's writing is also featured in Unsavory Elements (Earnshaw Press) and the forthcoming How Does One Dress to Buy Dragonfruit? (Signal 8 Press).
Chinese Tools is pleased to present to you Jocelyn Eikenburg, a woman who dares to write about and explore the intricacies of intercultural relationships.
1.     Hi Jocelyn. What brought you to China? What are your happiest and scariest thoughts from back then?
Honestly, coming here was a complete accident. It was 1999. I was on the verge of graduation from university and totally unsure about what to do with my future. I only knew one thing — after spending a semester abroad in Spain, I really wanted nothing more than to travel. So when I walked into the International Affairs office one afternoon, I discovered my university happened to run a teach-in-China program. And even though nothing in my life suggested all roads lead to China, I decided to take a chance and give it a try for year. I never realized that one year would literally turn into a lifelong love affair with China on many levels!
Some of my happiest thoughts from that time were when I started dating a local in Zhengzhou who I'll call "Yao". That really took me by surprise. It was already surprising that I ended up in China, and then to fall in love with someone there! He was so incredibly handsome and such a gentleman, and I remember thinking, "I can't believe I'm dating this guy!" It felt like a dream to me, in the best possible way. Our love transformed the world around me, as if I was in my own version of "Paris in Spring" instead of Zhengzhou. While Yao and I eventually broke up, I still have fond memories of him and our first moments as a couple.
I think some of my scariest thoughts that year happened when I first arrived at my assigned school — and the officials told us classes started the following day, but they had no clue about what we were supposed to teach. Nobody even knew what textbooks we would use for our classes. I'm pretty sure the thought, "What did I sign up for in coming to China?" passed through my mind. Fortunately, as it turned out I didn't have to teach the following day and we did find our curriculum hidden in one of the desks in our office. But yes, I was sweating it for a few hours!
2.     In your blog you mention that you wished there was a blog like this when you first started dating in China. What advice would you give to all those young ladies who are now entering the Chinese dating scene?
 First of all, stay open-minded. Over the years, I've met foreign women who come to China and automatically assume Chinese men are undateable. Or, if they have one bad date, then they assume that dating in China is always a disaster. It doesn't have to be like that — and I should know, because I've had my share of "dating in China" horror stories. I'll admit there's definitely luck at work in the dating world. But beyond that, it's also a matter of your perspective and your willingness to believe love could happen for you in China.
Second, learn about the culture and learn the language as much as you can. Culture and language mold and shape how people behave and interact — and there's no better place to see this at work than in love and courtship. The more you know, the more you'll be prepared for dating.
But, and this is the third point, don't always assume it's a cultural thing either! It's easy to fall into a trap where you blame your relationship problems on cultural differences, sometimes to your detriment. I receive e-mails from fans asking me, "Is this something cultural?" and it's clear to me that not only is it not culture, it's something no one should put up with in a relationship, period. If you're having relationship problems, it's always a good idea to consult with someone who knows Chinese culture for some perspective. What you thought was culture might just be a product of personality or upbringing.
3.     What does the term yangxifu stand for? Is it used in a derogatory way?
Yangxifu (yángxífù, 洋媳妇) means "foreign daughter-in-law" in Chinese. "Yangxifu" is not derogatory at all, it's a perfectly appropriate way to refer to a foreign woman married to a Chinese man.
I've also found that "yangxifu" is like a magic word in China because the Chinese really adore us. It's amazing how people smile and light up when they hear I'm a yangxifu. There are many news stories and videos in Chinese about yangxifu (last time I checked online, there was something like over 40 of them published in the past month), and there's even an entire Baidu group devoted to discussing yangxifu with over 5,000 followers and 175,000 threads. Personally, though, I still can't get over how friendly that officer in the Public Security Bureau was to me when he learned I was a yangxifu. I mean, I felt like a VIP in the Public Security Bureau, of all places!
4.     We keep hearing that the world today is small. People travel easily; we can instantly communicate with each other in various ways. Why is it that intercultural relationships are still hard?
Because culture has such a huge impact on who we are and how we date other people. In psychology they talk about everyone having a "cultural lens" (in other words, your cultural perspective) that affects how we view the world and what we assume about people and their behavior in a context. If you're not aware of your own "cultural lens" (which is true for most of us…even me at times!), you're apt to make assumptions about people from different cultures that are wrong.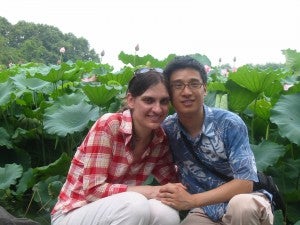 For example, growing up in the US, I was socialized in a home where my parents openly showed their affection for each other and us through hugging and kissing and saying things like "I love you." My husband grew up in a home where public displays of affection just aren't a part of life; nobody hugs or kisses each other, or even says "I love you!" It could be very easy for someone to make a conclusion about my husband like, "Oh, he's not that romantic because he doesn't like to kiss in public." And that conclusion would be incredibly wrong! In fact, my husband is super-romantic, often in the most surprising ways.
Of course, culture is just one part of a person, as there's also personality. But we should never forget the importance of culture.
5.     What are the main things one has to let go of if they want their mixed relationship to succeed?
Your expectations that the relationship will be exactly like dating someone at home. It won't be exactly the same — but that's not necessarily a bad thing either!
To a certain extent, you have to let go of certain parts of your culture and upbringing to make the relationship work. For example, here in China, families are close-knit and everyone takes care of everyone else (including financially), which is totally different from how I was brought up in the US. Once my husband and I are settled and have the financial means, we plan to give his parents money to help renovate and rebuild their home. We also talk about taking my father-in-law with us on trips around China (which we would pay for, not him) because he loves to travel. If I had married a white American guy, I don't think I ever would have had these conversations!
It's ultimately about flexibility and change. I think to a certain extent everyone has to make changes and adjustments in a relationship. But when you date and marry someone from another culture, those changes can be greater than you expected.
6.     Tell us more about your work. Did living in China push you to become a writer? Will we be reading more of your work?
Last year, I was fortunate to be published along with some of today's biggest China expat writers in the anthology Unsavory Elements. My essay "Red Couplets" explores some of the challenges that my husband and I faced as a couple in Shanghai in 2003, from societal and political hurdles to familial and even personal ones.
My essay "Huangshan Honeymoon" will be published in How Does One Dress to Buy Dragonfruit?, an anthology about expat women in Asia set to hit the shelves in June 2014. It's a surprising story, because my husband and I took his father with us on our honeymoon vacation to that famed mountain. No doubt it reads like a nightmare to most Westerners! Yet the experience unexpectedly brought my father-in-law and me closer together — and when I look back on it, I can't imagine that trip without him.
It's funny you ask about how China has shaped me as a writer, because the memoir I'm currently working on is about how my experience in China — including my relationships — helped me discover my writer's voice and my direction in life. It won't be out immediately since I plan to get an agent and have it published through a traditional publishing house. But watch for my book in the next few years!
And of course, I continue to blog twice a week at Speaking of China. I've also just launched a Chinese version of the site, translating selected posts into Chinese with the help of an extraordinarily devoted fellow from Shandong named Yuan Fu. A lot of my fans are really excited about this! Not only have people told me they plan to share these posts with their Chinese spouse or partner, but some have also expressed an interest in using the content to study Chinese. And honestly, it's a thrill for me to reach more readers in China.
7.     How has your blog helped you and how has it helped your readers?
Speaking of China has definitely given me more courage as a writer and helped me find my own voice. It might surprise you, but deep down I'm incredibly sensitive and even anxious at times. The experience of blogging — publishing my writing publicly, for people to comment on it — has helped me overcome one of the biggest fears that most writers face: what will people think about my writing? I also became more honest with myself about my interests as a writer, and I learned to focus on the topics I was most passionate about.
As for my readers, while I can't speak for everyone, I'd like to think I've helped them over the years. Some contact me to say they've enjoyed learning about Chinese culture and cross-cultural relationships through Speaking of China. My blog has also become a hub for Chinese men and Western women around the world, which has been extremely valuable to people looking to connect with their community. I've even provided readers with the opportunity to share their own love stories, from tales of happily ever after to those unforgettable breakups. And as I've watched plenty of lively conversations unfold on the blog, I hope my readers have had fun in the process!